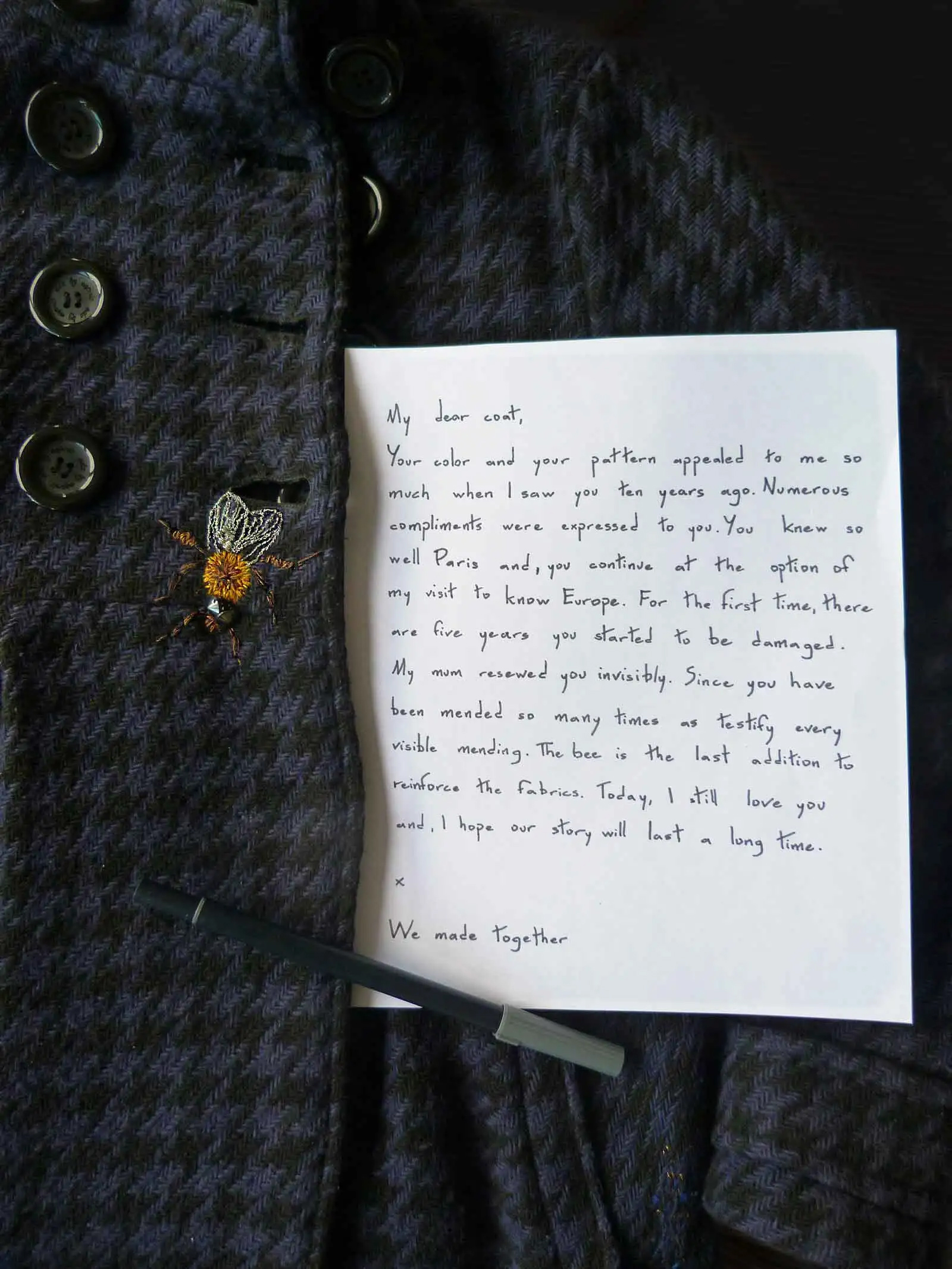 A conversation about mending fashion with Lucie Chaptal from We Made Together.
We Made Together is a project launched by Lucie Chaptal. Her mission is entirely dedicated to repair and healing. She wants to bring change "in a very attentive way", she says, "without any violence". She has put together a mending service and organizes repairing workshops. Her research is directed towards an ecological transition and towards more individual and collective awareness, understanding, inclusion and empowerment. 
We discuss over the phone about fashion education, innovative pedagogies and processes of healing and repairing through compassionate communication, restorative justice and reconnecting people together.
---
Sophie
Where are you from and where do you live? 
LC
I'm Lucie, I'm 27 and I come from Bordeaux. I live between France, the Netherlands and Belgium.
Sophie
What made you want to study fashion in the first place?
LC
I started at 15, studying "métiers d'arts" at Ecole Boulle, in Paris. During those studies, I got into textile, fashion and also tapestry. In my family, there were pattern makers and seamstresses and there was a kind of tradition around that. I had the feeling that being well-dressed was a bit like having a second skin. It helped me to accept myself.
Why, do you, as a designer, never stop, overproduce? What could make us more resilient at school? How do you train resilience? How do you train diversity in fashion practices?
Sophie
Can you tell me more about the MA degree you did in Arnhem, "Practice Held in Common"? It sounds really intriguing and interesting to me.
LC
It is quite recent, three years old only. I was part of the first generation of graduates. The MA director, Pascale Gatzen, designed it according to her own experiences. She was a lecturer in various fashion schools, namely Parsons School in New York and also owned a fashion brand. She was one of the first famous designers from the Netherlands, together with Saskia Van Drimmelen. At some point, she became exhausted from it all, went through a burn-out and it made her question the system. Why, do you, as a designer, never stop, overproduce? What could make us more resilient at school? How do you train resilience? How do you train diversity in fashion practices?
So she started thinking about this MA, once called "Fashion held in common" which changed name to "Practice Held in common" last year. Instead of saying : "let's make a collection", it's more "what do you want to do in fashion? Do you want to make clothes or do you want to focus on something particular : on a fibre, on the process of transforming fibre to clothes? What kind of fibre? Do you want to focus on linen, on cotton, on recycling? Do you have an artistic project around fibre? Or a project to invite kids to create their own clothes?
In a way that is free, without judgement. Students are asked to arrive with a specific project, open enough and stay widely open to the way they will give life to this project.
Another format that I really liked in this MA, was the sense of community. We weren't considered as a class, we didn't have teachers, we were considered as participants and the teachers were our tutors, they were our equals.
We had enormous autonomy, we would auto-evaluate ourselves. In this process, we were asked to fix our own objectives (we didn't really have a program) and we then evaluated ourselves on those objectives together with our tutors.
It is a process that combines various pedagogies. We can agree on this or not, but for me, having a pluridisciplinary, multinational class that doesn't work on the same things and topics was really rich and positive.
But we also had a lot of tutorials with other participants. We supported each other a lot, we had meetings every week. We had "buddies" for every subject, groups of two or three exchanging about our projects.
Sophie
it is so different from the typical fashion studies. It is really inspiring. Did you have one tutor following you? Or were you totally autonomous and worked with the other participants? Was there still some kind of classes or mentoring sessions? How did it work?
LC
We had classes, mainly tutorials with mentors that we chose. You subscribed and decided which tutor was going to follow you all year long and with whom you had regular meetings. And others to whom you could turn to discuss where you were at with your project. They would never intervene in your work. You were the one to solicit them, if you needed help or anything specific.
But we also had a lot of tutorials with other participants. We supported each other a lot, we had meetings every week. We had "buddies" for every subject, groups of two or three exchanging about our projects.
We had subjects that could sound strange when we are in fashion, because it has nothing to do with it at first sight : compassionate communication, organization, this one we called "practice plan", oriented around how do you organize your week, what are your needs, the things you are missing, etc? How do you work, communicate with people in regards to your projects. In order to think about the methods you are using, to help you question it and make your ideas progress too.
We could work on the business side as well. I started to do this last year, during my diploma year. I started thinking : I have no business notion, money is a thing that really makes me anxious in general. So I started talking about that to a lot of people in the MA and we had to find solutions, make groups to talk about it. Today I'm still in contact with a few of them to see what solutions we were able to set up to look at those fears and keep on going. We also had a lot of external readers. At least three or four per week. Evenings where invited speakers would come to lead a discussion, make a performance. Sometimes it happened on full days or weeks.
We had to conform to trends to create and it made me so sad. I felt like my creativity was getting stolen from me.
Sophie
Regarding the work and stress burden : you have experienced both pedagogies. Are you now able to lower the pressure, to reach a better balance between your private life and your professional project? How did it improve?
LC
It is really personal. I remember a girl who was able to decompartmentalize during the MA. She was a yoga teacher, she had kids and realized she could link different things together inside the MA structure.
Regarding the level of stress, I think that my life and work are quite connected actually. I make a lot of connections.
On the other hand, nobody is there to put you constraints. There is no deadlines ever and this is also something that can be strange. You are the one setting up the deadlines. This is where you realize that if you are not able to set them up, you maybe won't be autonomous. In this case you will need to work in a duo and you will need someone else to set it up for you, or ask tutors to impose some for you. But you have to ask.
You learn a lot about the way you work in doing so.
In my case, unfortunately, I kept getting used to working enormously, because in fashion schools in Paris, we were trained to be hyper competitive and reach a certain level. Today it is still hard for me to let this go, because it is so rooted in me. But with "Practice Held in common", I was able to keep things in perspective much more. And when there is no competition, it's amazing to tell yourself that you can trust people around you and that if you want to work it's for yourself and not to be the best or to prove better than someone.
Sophie
Yes and not for the grade that will be given to you at the end of a jury but for your project, so that it progresses, for your values and missions.
LC
Yes and that is a huge change.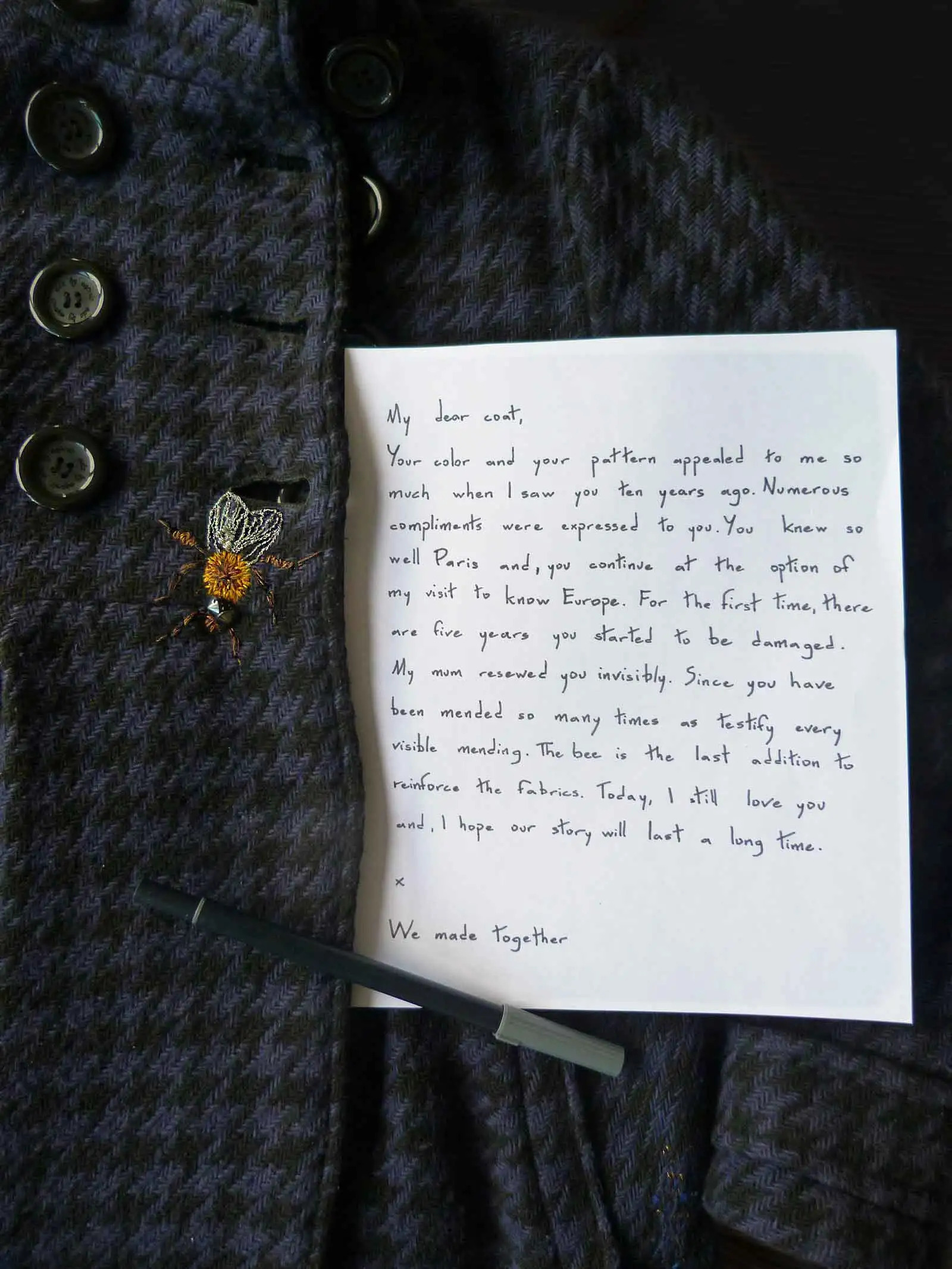 Sophie
Was it during the MA that you decided to create We Made Together?
Sophie
What was the starting point? I assume it has to do with the precarity in the fashion industry but was there a turning point, something that happened and made you decide to build this project?
LC
The turning point was my BA degree at Francisco Ferrer high school, in Brussel.
It is famous because when you graduate from it, you are a very good technician. We were trained to make patterns for the industry, so a lot of pattern making, a lot sketching too. In this school, creativity wasn't encouraged at all. We were mostly briefed to make really technical stuff.
Coming from a "métiers d'art" school and being sensitive to handmade objects that have a story, a cultural heritage, traditions, values I was very disappointed.
The first year, I had to adapt to trends changing every six months to create collections. We had to conform to trends to create and it made me so sad. I felt like my creativity was getting stolen from me. Another thing that made me sad, was hearing "no, you shouldn't be making the clothes yourself, someone has to make them for you. You just sketch." For me, it was unimaginable, it wasn't my way to do. Anyway, I never let it go and fought against that. I always made the clothes myself. But this obligation to be a designer like this and no other way, this really made me sad.
After that you enter the job market and see how many internships you have to do before getting a decent and stable position… During my last year of BA, I did an internship for Iris Van Herpen. It was a very good and very bad experience at the same time. You learn a lot of things but the reality is also very disappointing : Iris Van Herpen couldn't make it without interns. It is also a big sadness to realize that factory workers are almost unpaid, it is the same in Haute Couture, in the atelier, nobody is paid and people work crazy hours. It is so sad to realize that precarity is everywhere in the system.
Gradually, during these three years, I realized that precarity isn't only present at our level, but the violence extends worldwide, at all levels. It is a very unhealthy system. It had a great influence on me. I wanted the system to change, I wanted to transform it but not necessarily with the same violence. I wanted to repair it instead, not in a too soft way but more in an attenationate way. My research and diploma collection were addressing this.
The only regret is that I made this collection and thinking process all alone. When I started the MA, it was clear that I didn't want to make that kind of project alone anymore. I wanted to collaborate, to work together with associations, societies, people. Being a designer is very often being confronted to oneself and not to collaborate, especially in fashion. We often talk about individuals creating things and rarely...
Sophie
… about all the people behind, about the teams. It is crazy. The base of a designer activity is to be a connector between many different skills, to collaborate with many different professions. At school we are trained to be alone working on a project. The figure of the genius designer, who has an innate talent just waiting to be discovered is still promoted. There is a huge gap with the reality.
LC
Exactly! I think it is the case in a lot of fashion schools but there are some exceptions. For example, have you heard about the school casa93? They have another system. Instead of having each student produce a collection, the whole class works on one single common project. This is also interesting because it tackles the role of the lonely designer. You have to work in a team. There is also a friend that launched a project called Collectie Arnhem. It is addressed to students in the third year of BA, making a collection all together. They have no funds, they have to find fundings, to create a collective collection and find a space to work. The idea is to start from nothing to make something altogether.
During these conversations, I address a traumatic moment I shared with this person. I want to have their vision on it, because it is a way to get free from it I think. Combined with the mending experience, it is a double experience of repair.
Sophie
How would you define your practice today?
LC
I am trying to make reconnexion through clothes and objects. I started other projects around psychism and physicality. Trying to work around what is broken. Repair, create moments to repair, re-create connexion while repairing. Talking about society topics like climate change, exclusion and collaborate around that. I rarely work alone.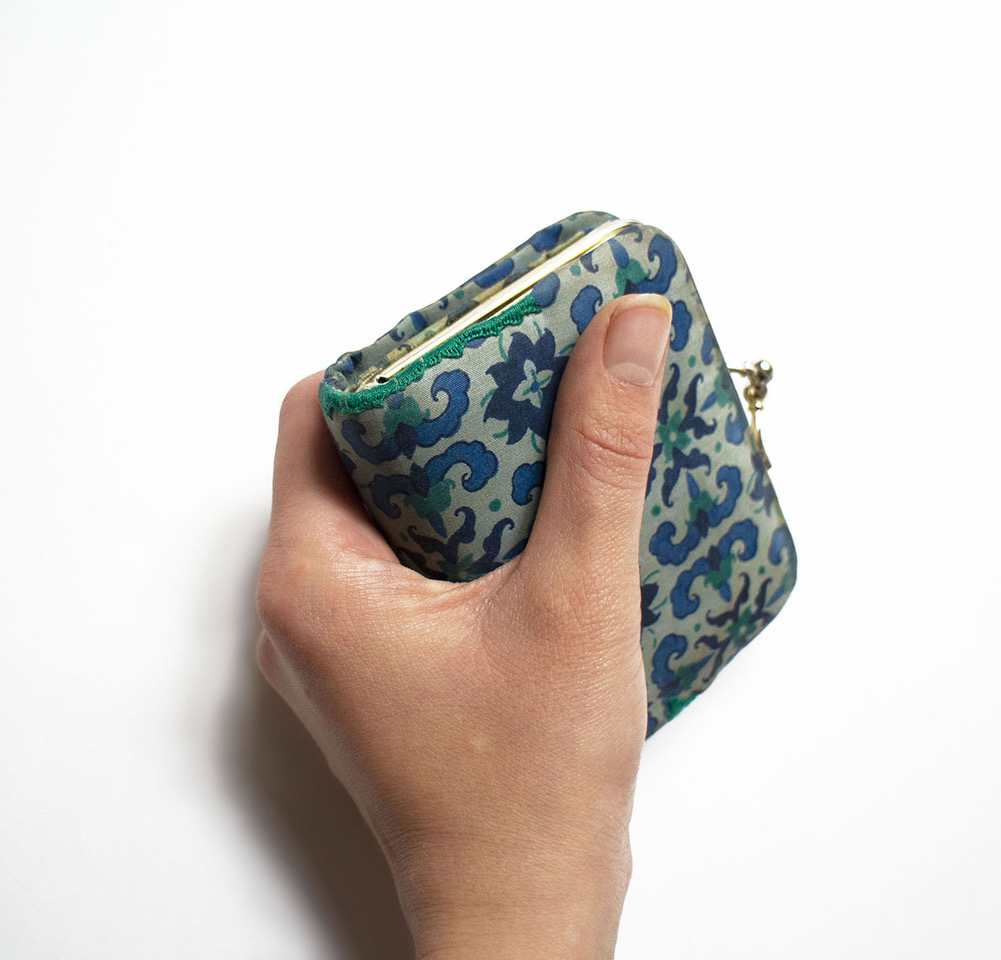 Sophie
The "Cocoon Evening" event sounded particularly beautiful. Linking what you can repair materially and psychically is a very inspiring program.
LC
The "Cocoon evening" was also an opportunity to question our perception of words, vocabulary, intonation in parallel. There were a lot of things. It was organized with Dani Cao. She organizes a lot of events like that, where she encourages people to read and question themselves.
Her project is called "Read to each other". It was a really interesting experience. The goal was to immerse people in an experience, so that they would feel good, very relaxed. This is also something you can find in my other workshops, this need to create safe spaces, where people will feel listened to and safe enough to talk.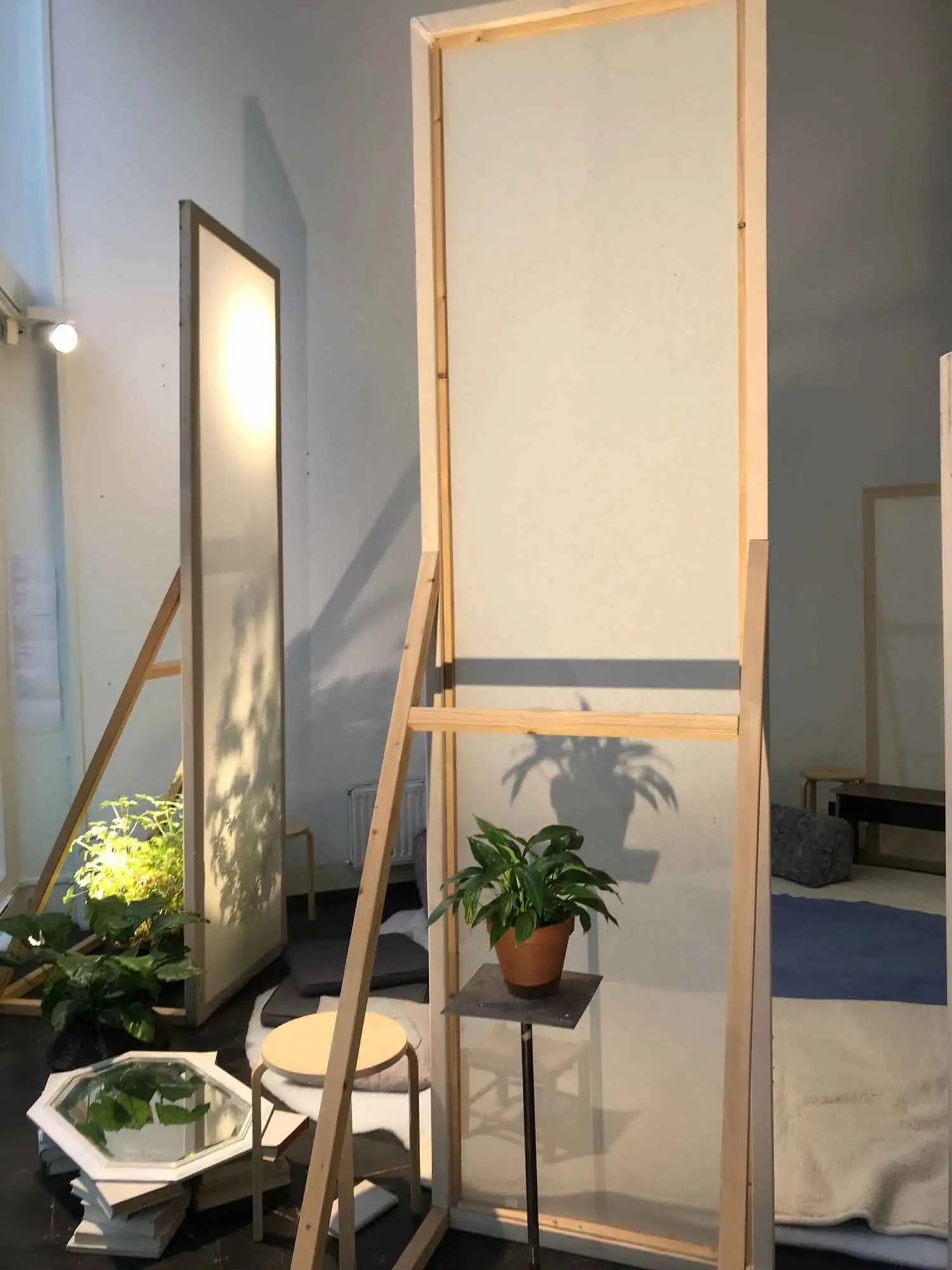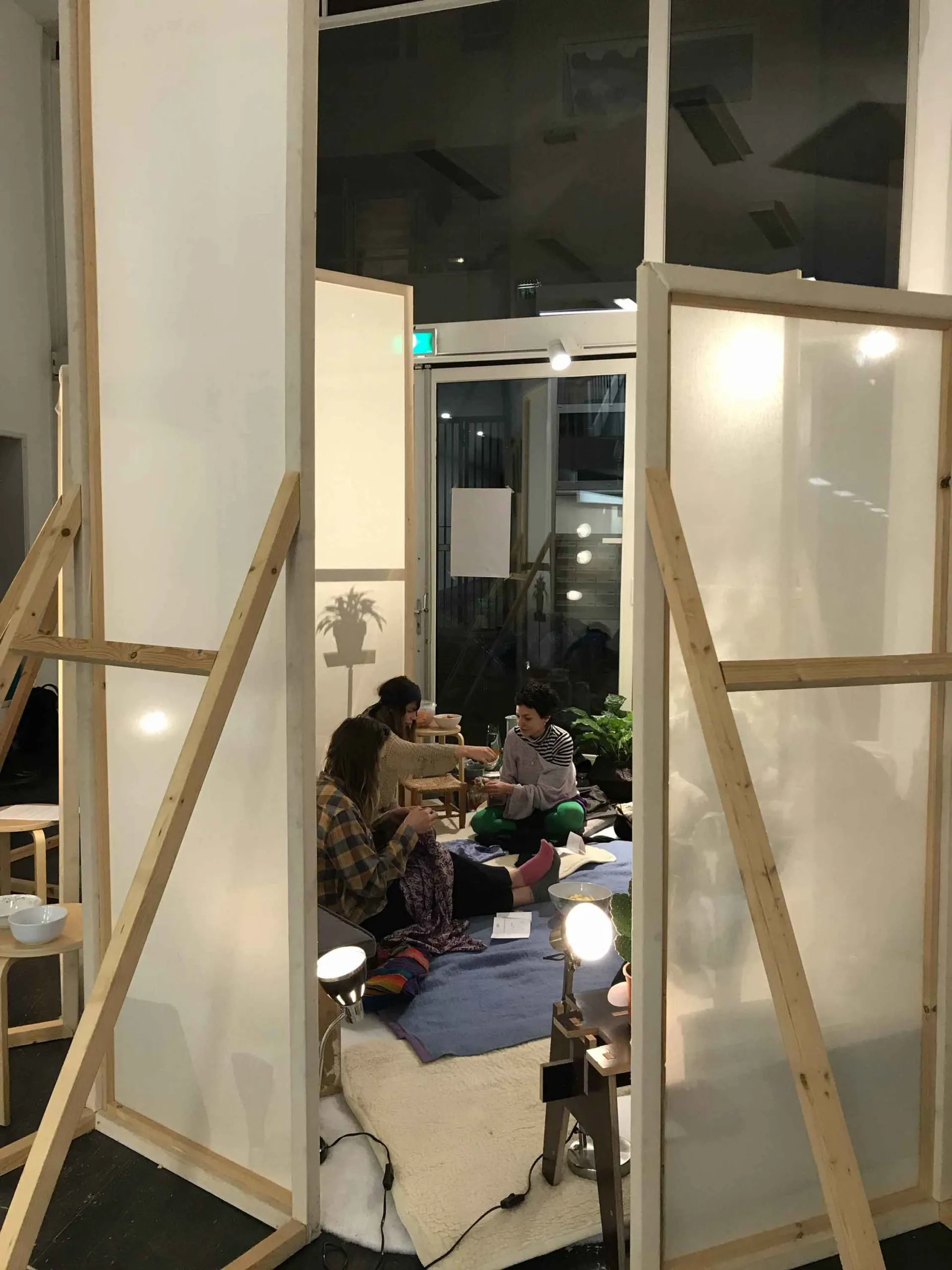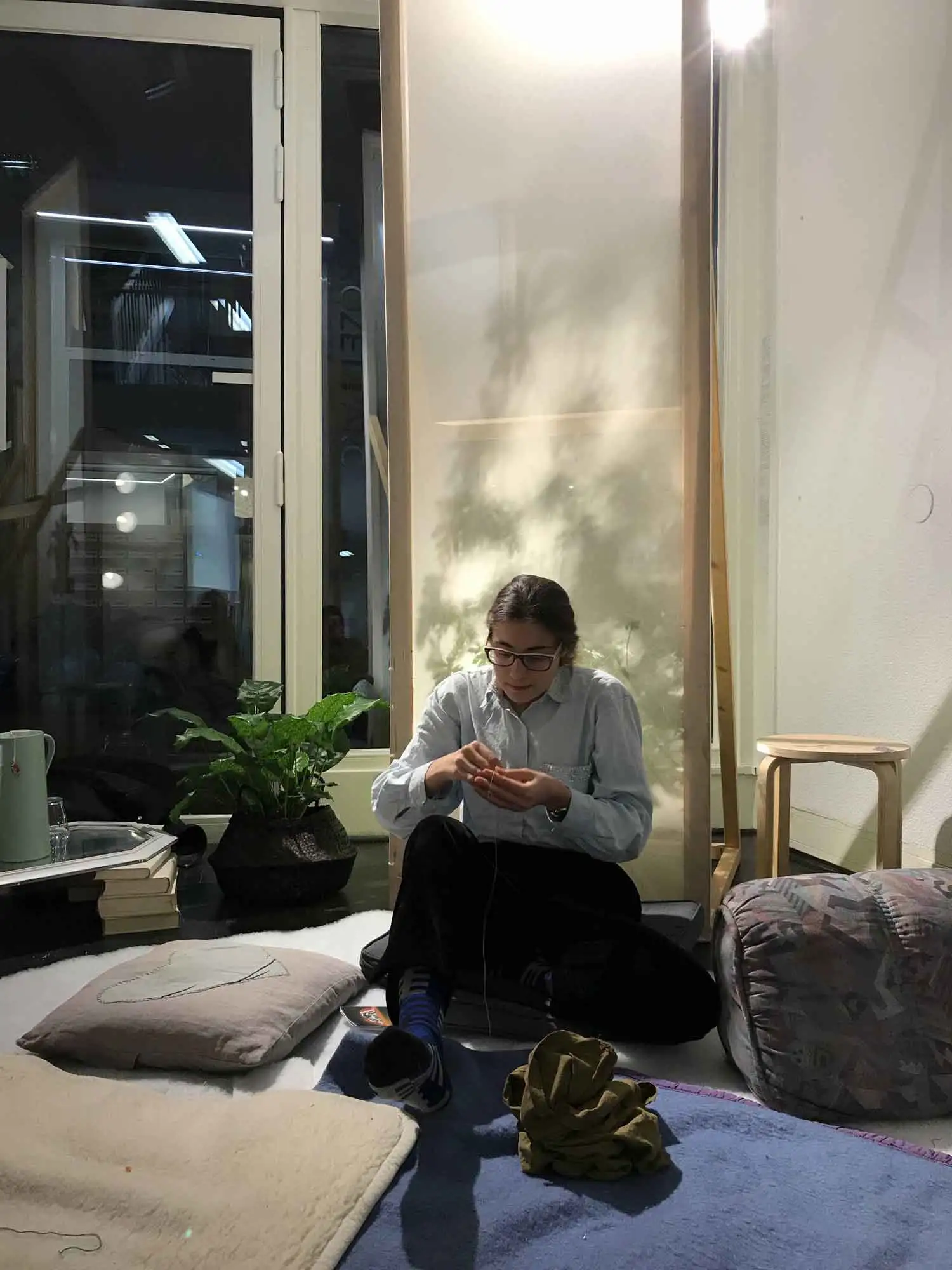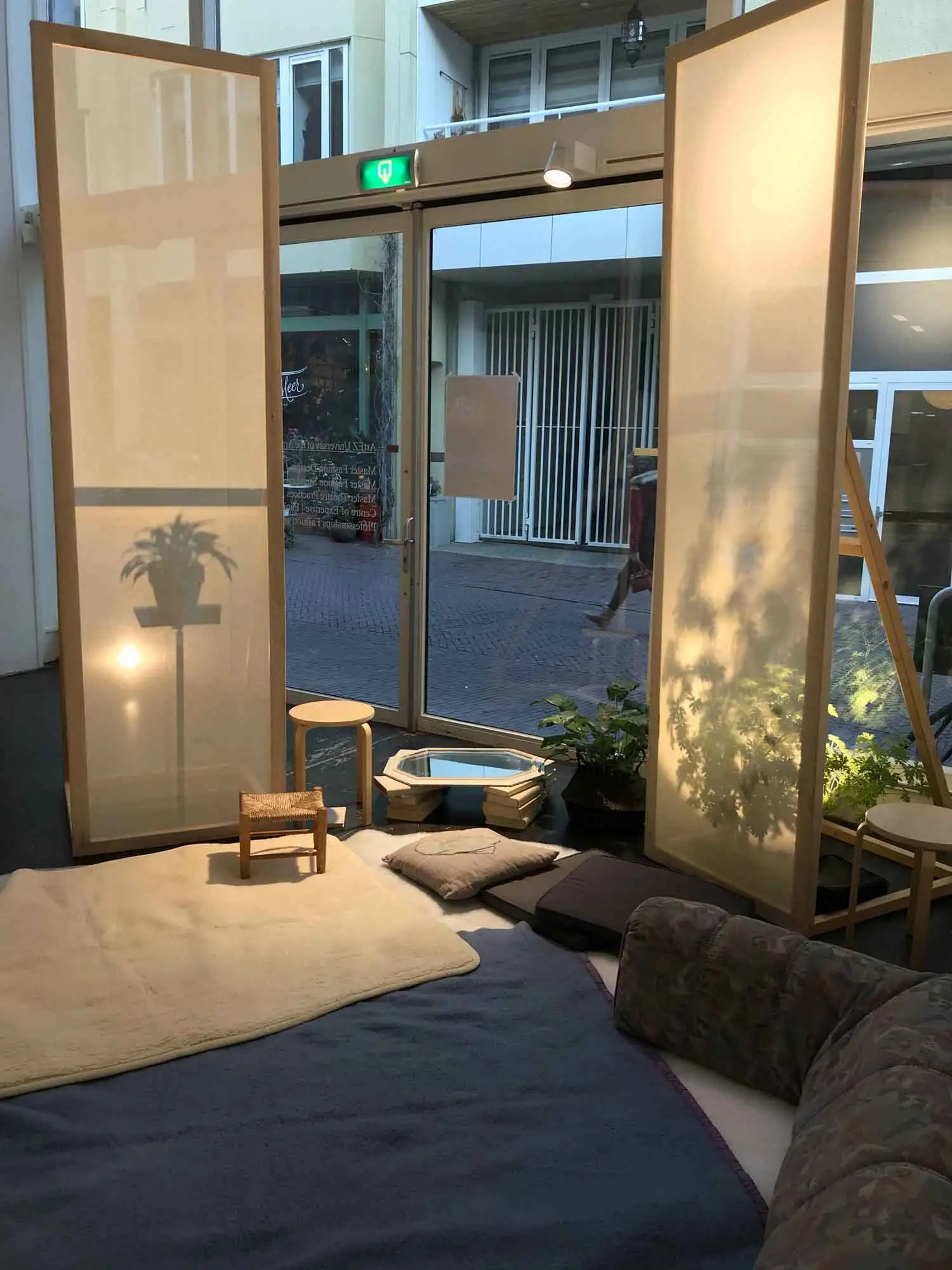 Sophie
Does it take a lot of time for people to feel at ease and start to talk or is it quite natural and comes fast?
LC
I think that the environment makes it all. There are environments that will spontaneously put you at ease. It is one thing I pay close attention to : set ups to help create comfort and safety. But it is also through communication, how you talk to people, and welcome them. This has a lot to do with compassionate communication, taught to me during the MA, that allowed me to evolve, to understand a lot of things regarding our way of speaking. I re-use that a lot in these spaces where we try to put people at ease with language.
Sophie
I'm interested in the power of language. How it can change perspectives on things. I found your dictionary very inspiring in that way. How was the idea born and how do you collect words, expressions, etc?
I am always shocked when I read certain words like "high expectation", "challenging", "fast-paced environment", "good resistance to stress", "excellence", "sharp", "exceptional" to describe what teachers are waiting
LC
I see We Made Together as a kind of research. This is funny because the more I go, the less I use the same terms, so the way I am defining myself changes gradually, because I'm evolving in my objectives. My values don't change anyway. I read a lot, I collect information, I enrich myself with projects and try to incorporate them into my everyday life. I want to update this dictionary regularly, at least once a year, to add every word that feels important to my practice. The principal source are books, but also podcasts or projects or designers, who created their own words or definitions. It is everything that inspires me actually, it depends on the projects I'm working on, but in general it feels important to me to continue to grow this vocabulary. It is really what enables changes : use words that are new and make language evolve. Assembling words, significations also creates a kind of change.
Sophie
We still read words like "high expectation", "challenging", "fast-paced environment", "good resistance to stress", "excellence", "sharp", "exceptional" so much in descriptions of careers, job offers, diploma expectations. For the first time, recently, the aggressivity of those words hit me like a slap in the face.
LC
Now I try to protect myself more and more from that. I changed my way of talking. When I notice verbal violence, it hits me. I'm also in a phase where when I read something violent I question it and tell myself : why, in which context does it appear and why is it there? There's inevitably a context behind it and generally, it explains a lot of things.
Sophie
I think you're right. Recontextualizing can help cool down and replace your own feelings.
Do you have other projects in mind that include the notion of care?
LC
I am continuing to develop my diploma project, the one I focused the most on. I'm looking for fundings.
It's a reflexive project, where I invite relatives to think with me. This isn't a collaborative project, but I'm not alone either. It has to see with mending, imperfections, things that are broken.
This summer, I started to ask my friends and relatives to take a broken object or piece of clothes and mend it with me, while having a conversation. During this conversation, I address a traumatic moment I shared with this person. I want to have their vision, because it is a way to get free from it I think. Combined with the mending experience, it is a double experience of repair.
Until now, I've done it with seven people and it really is such a relief. I ask myself why haven't I talked about these things before.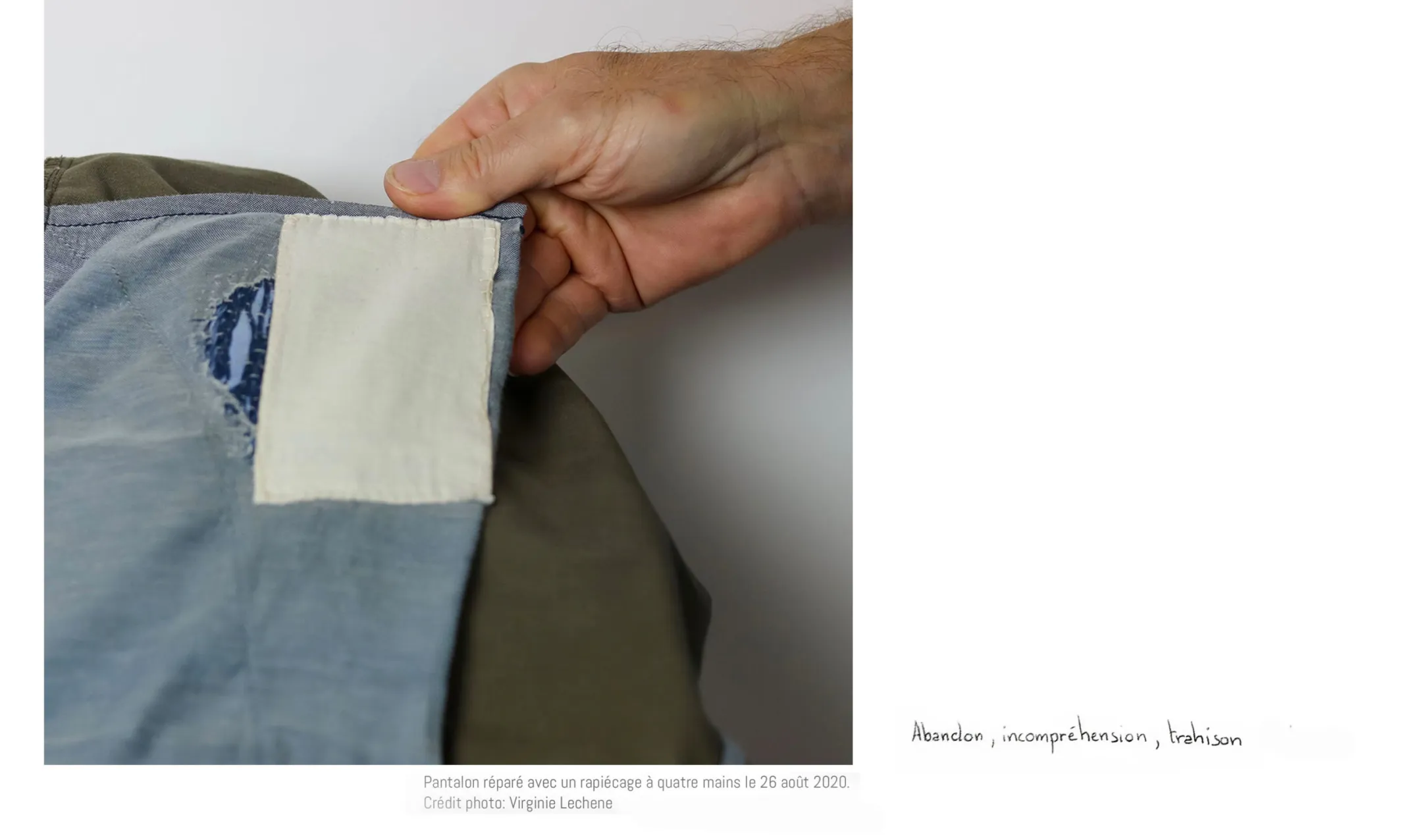 Sophie
This must take you a lot of courage!
LC
Yes, possibly, maybe. I don't know, I couldn't say. I feel this is something very spontaneous for me now.
I got interested in restorative justice a year and a half ago. It is a mix between reparative justice, compassionate communication, repairing, it's a mix of a lot of different things, maybe even art-therapy too.
Restorative justice consists in the meeting between the victim and the aggressor. It takes into account the psychic part that was hurt, be it for the victim or the one who committed the crime. Instead of looking at the facts, restorative justice will look at why the crime was committed on the aggressor's side and what it caused to the victim and will focus on repairing these damages. In parallel, there are meetings between the victim and the aggressor. Both of them will ask questions. Of course if and when the victim feels ready. It is very framed, there are supervisors.
It is a really interesting method, because in the end the aggressor can't mask the victim's feelings but also because the victim is regarded as a person and individual. It's much more difficult to accept having harmed someone, once you saw and talked to him/her. On the victim's side, it helps him/her to understand what the aggressor went through and be more empathetic.
Those techniques aren't used so much in France, they are more developed in Canada. I think we are going to hear about it more and more. My project is also inspired by that and I believe in it a lot.
---